What happens in Vegas doesn't always stay in Vegas.
Cody Hayes is having one epic morning-after. The hangover following a Vegas bachelor party is nothing new to him, and neither is the naked man in his bed.
His apparent marriage is a different story.
Carefully plotting every detail of his life carried Julian Canales to a Senate seat as an openly gay man. A drunken night of Truth or Dare isn't like him… and neither is marrying a man he just met. He'd get an annulment, but the media has gotten wind of his hasty nuptials. If Julian's political career is going to survive, he has to stay married to a man who's his opposite in every way.
Now he must convince Cody that all they need to do is survive a conservative political rival, a heartbroken ex, their painful pasts… and an attraction neither man can fight.
★ Dreamspinner Press ★ Amazon US ★ Amazon UK  ★ Amazon CA  ★ Amazon AU
---

Review
Just missed being a 5* read for the genre, due to the 'let's turn the page…what, it's finished?? Here?? Like this??' ending.
This is a book that had me laughing out loud from pretty much page 2 and I didn't stop until nearly the end, and then so, only because the author introduced a bit of realistic angst. I learned so many new, utterly brilliant expressions and the characters were thankfully not caricatures of MF leads in a Mills and Boon romance converted to MM. They were totally a case of opposites attracting and I liked them both equally.
I loved the Bruce Boner (yes, BB turns into the Hulk when…!) quip and the many, many funnies that both leads came out with during their many games of Truth or Dare. This seriously is one of the funniest books I've read and it was right on track to be a 5* read until the very end when I turned to read the next page and found that the author had left off an epilog. This book TOTALLY needed one, and normally, this would be the deal breaker for me, but it was still good enough that I'm giving it a 4.5*.
ARC provided by Dreamspinner Press in return for an honest review
---
Meet Jacob Z. Flores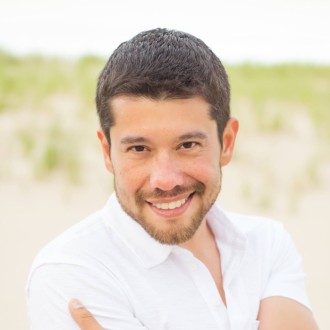 Gay romance that is sinfully charming Jacob Z. Flores lives a double life. During the day, he is a respected college English professor and mid-level administrator. At night and during his summer vacation, he loosens the tie and tosses aside the trendy sports coat to write man on man fiction, where the hardass assessor of freshmen level composition turns his attention to the firm posteriors and other rigid appendages of the characters in his fictional world. Summers in Provincetown, Massachusetts, provide Jacob with inspiration for his fiction. The abundance of barely clothed man flesh and daily debauchery stimulates his personal muse. When he isn't stroking the keyboard, Jacob spends time with his daughter. They both represent a bright blue blip in an otherwise predominantly red swath in south Texas.
Jacob Z. Flores author website: http://www.jacobzflores.com
The Warlock Brothers of Havenbridge website: http://www.havenbridge.me
© 2016 – 2018, Divine Magazine. All rights reserved.