Sam Becker, a horse whisperer, agrees to take one last job before retiring to his Texas ranch. It's clear as soon as he meets the Taylor family in Kentucky that he's in for a challenge. What he doesn't expect is the way his own wounds reopen. He's never really dealt with the suicide of his mentally ill wife, and he won't be able to ignore that hurt forever.
Joshua Taylor and his horse, Calla, were a force to be reckoned with on the eventing circuit until an accident ended their careers. Most of the pain is on the inside, however, and Sam knows those injuries are the slowest to mend. Sam's unique methods help Calla and, surprisingly, Josh, but he's still lost without riding. Their feelings for each other come hard and fast, and Josh starts his first steps of recovery, but Sam needs to return to Texas eventually. Even if Josh is able to move past the accident, they'll still have a long and difficult journey to make before they can be together.
eBook: https://www.dreamspinnerpress.com/books/one-step- forward-by- tia-fielding- 7342-b
Paperback: https://www.dreamspinnerpress.com/books/one-step- forward-by- tia-fielding- 7343-b
---
Insta-love or Is It?
I'm pretty sure that some readers will think One Step Forward is an insta-love story. From my point of view, it's not that, at all. Let me tell you why.
I'm a firm believer in that you can see a photo of a person and feel an instant connection. Most of the time nothing comes of it, because we rarely meet the people this information society of ours shows us in pictures. There are just too many photos out there these days.
But that's what happens to Sam. For him, it's something more than seeing a picture of a handsome young man and then seeing what that man looks like now. Somehow, the picture Sam has of Joshua and Calla touches his soul.
For Joshua, it's different. Of course he can tell he's attracted to Sam pretty much from the beginning, but part of it all is the fact that Sam doesn't take his shit. In some ways, Joshua doesn't see himself being difficult on purpose, and maybe he's not, but his depression definitely is. Sam is the first person who sees the depression and tells it to eff off.
It's also not just Joshua that has issues with dark thoughts. Sam has his own burden to bear, after all. While Sam throws himself into trying to heal Calla, he starts to fall in love with her broken rider. Joshua, on the other hand, sees the innate goodness Sam has, and the way he cares about people—human or animal, it doesn't matter.
While Sam is in Kentucky, he finds new friends, eventually a new family, too. He starts to heal in a way he hasn't before for whatever reason. Sometimes healing doesn't happen when you want or expect it to. There's no time limit for scars on the inside.
Joshua and his tar pit are something Sam really doesn't want to touch. He knows that getting too close to a person with mental illness again might hurt him too badly to ever recover. But at the same time he's also incredibly drawn to Joshua, and the strength he possesses after all that's happened to him, which certainly doesn't make things any easier.
There are things underneath the surface that we, as people, don't see. Whether the surface is our own or someone else's, doesn't matter. Sometimes the water is murky and it takes that one person with the special goggles to be able to see what's all the way down at the bottom.
For Sam, that person is Joshua, and vice versa. They see that special something in each other, that thing that binds them together from the first moment they lay eyes on each other. It might be love, or maybe not. In my opinion, love comes after time, not instantly or at first sight, not in the way we're taught to think of it.
So no, in my opinion One Step Forward isn't an insta-love story. It's very much a story of two broken men who need to heal and then find their places in the world before they can truly be together. Oh, and there's family, friends, a horse or few, and a bunch of songs with deeper meanings in it, too.
My YouTube playlist for One Step Forward soundtrack
---
Review by Roroblu'sMum
Good writing, great premise, decent leads, but then the ending left a lot to be desired – it lost a * because of it.
This was a decent intro to this author, with a tale that was like watching a TV movie, it was so well-described and vivid. Not only were the leads decent, but there was a whole host of side characters that added to the leads' healing – they both needed differing forms of healing – and that of the horse in question. But, it did feel the tiniest bit 'kitchen sink thrown in' as there was a lot going on.
I believed in the slow rehab of the injured horse and rider, and how both were linked and that when one healed, the other started to, too. I'm an animal lover and I was so pleased that Calla wasn't destroyed when so many horses would have been with injuries such as hers, and I believed in both her mental and physical healing, and that she was linked in a mysterious and yet not unrealistic way to her rider, Joshua.
Joshua was a sweetie, as was Sam, and their attraction and connection were clear from the start, with Sam reaching him when even Joshua's parents, friends and family couldn't. Sam was a true healer, a horse whisperer, and the guy to get Joshua wanting to live again, and living again, without even asking for a thing in return. So, OK, Sam knew he'd come to do a job and that if he succeeded, there'd be a payday in it for him, but it truly felt that he had a gift that was made for sharing, a gift that he didn't take for granted, but used selflessly.
There was a tiny bit of sex in this; again the theme was healing, so it was emotional and important to both guys. I believed in it and felt that it suited the leads and was integral to their love story.
I liked that the author kept the tale real – Sam's come to do a job, it ended after about 10 weeks and then he had to go home, and Joshua had a lot of mental healing still to do, now that his physical and emotional healing were underway. This meant that they ended up parted, and realistically and reasonably so, but, for two years??
The latter is what spoiled the tale a little for me, and caused it to lose a *. It's not that the leads didn't need to be apart – they needed to know if what they had was true, or if they were sort of Stockholm Syndrome'ing each other, and Sam had a life outside of healing. Joshua had a lot more healing to do, had an education to complete and had to start living his life, instead of simply existing. I got all of that. I didn't get the 18 months without contact, and that after they did meet up, it was more like a meeting of casual friends, followed by another six months' silence until Joshua's education was complete and he upped sticks and came to Sam.
I was glad that they'd gotten there, but each admitted doubting their feelings for the other, and yet on arrival, the book ended barely 2 pages later. There was so much more that needed to be said, that needed to be promised, cemented, perfected, but the tale ended totally abruptly and for me, without that HEA that the leads deserved.
I did appreciate the tale, but it disappointed at the end with its abbreviated ending.
---
Meet Tia Fielding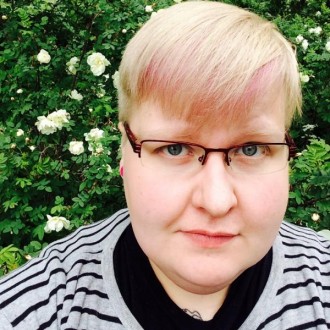 Tia Fielding is a thirtysomething Scandinavian who is a lover of witty people, words, cats, sarcasm, autumn, and the tiny beautiful things in life. Tia struggles with stubborn muses and depression, but both are things she has learned to live with.
After losing the thread of her writing in her teens, Tia rediscovered the joy of writing stories through fanfiction, which later kick-started her publishing career. Tia is not ashamed of her past of borrowing other people's characters, but has found creating her own much more satisfying.
Tia identifies as genderqueer, but isn't strict about pronouns. Why? Because luckily, in her native language there aren't gender-specific pronouns. Being a reclusive author living with her fur-babies is another fact of life for Tia, among the need to write that seems to be a part of her psyche by now.
In the fall of 2014, Tia took a huge leap for most authors and kicked her coffee habit. Do not fret, though, she switched to tea, so her life isn't completely lacking caffeine.
In 2013 Tia's one of Tia's novels was recognized by the industry's Rainbow Awards in the Best LGBT Erotic Romance (Bobby Michaels Award) category.
Facebook: www.facebook.com/authortiafielding
Website: www.tiafielding.com
Twitter: http://www.twitter.com/tiafielding